RITCHIE RACING SCCA T2 CAMARO
2004 SEASON UPDATE
Three National wins and finished second in the Southwest division points.
The season got off to a late start when the T2 Camaro went on the track for the first time ever at the March 28th National at Texas World Speedway's 1.8 mile road course. I qualified on the pole, then at the drop of the green flag I began building a comfortable lead that lasted until the LS-1 under the hood sent a connecting rod through the high-tech aluminum block and oil pan. Luck was with me, because I had finished more than half of the race laps and the other T2 competitors had dropped out, so I finished second while sitting on the infield watching my own race group. Dimitrios Gizikis in his Dodge SRT-4 drove to easy wins both days, building an insurmountable lead in the Southwest Division AS National Championship.
On May 30th, with a new engine under the hood, I entered the National race at Texas World Speedway and won the race with nearly a one-lap margin of victory.
On July 4th, I entered the National race at Texas World Speedway. I finished first, about five seconds ahead of J.B. Stringer.
In September I traveled to Heartland Park in Topeka Kansas to get my fourth race of the year in order to qualify for the Runoffs two weeks later at Mid-Ohio. I was the only car entered in T2 and drove to an easy win, saving the car for the big race to come.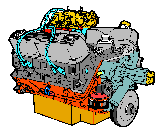 THE RUNOFFS, SEPTEMBER 2004
I arrived at Mid-Ohio feeling good because I had won three National races, finished a strong second in the Southwest Division Championship, and thought I had a strong, well-sorted race car.
In the Monday practice session, I went on the track, and warmed up the car and started to work on turning a competitive qualifying time....but the car was plagued with massive understeer and I tried adjusting the shocks and tire pressures each day, but the problem persisted.
As a result, I posted a very poor qualifying time, but good enough to start the race. I started and finished closer to the back than to the front. After the Runoffs we tested the car on our home track at TWS and determined that the new differential had too little clearance and locked, causing the understeer. The 2004 season ended on a low note, but my enthusiasm for the 2005 racing season has not been dampened.