"The Hecker Corvette"
1967 Corvette convertible (Roadster)
SCCA (Sports Car Club of America) B Production/Trans Am and IMSA Camel GT race car
CLICK ON IMAGES ABOVE TO SEE MORE PICTURES OF THIS CORVETTE
PRODUCED: JULY 1967 ORIGINAL COLOR: SILVER PEARL-CODE 986
ORIGINAL INTERIOR: STANDARD BLACK VINYL
Purchased by Paul Hecker of Cleveland, Ohio from Sting Ray City also in Cleveland, as a stolen recovery in 1968 or 1969 and prepared for competition in the Central Division SCCA B Production class where he finished second in points to Allan Barker, who won the championship that year. It was solid white in 1970 when Paul drove it in the SCCA Runoffs at Road Atlanta. Hecker later became a Trans Am and IMSA racer in the mid 1970's driving a 1969 Camaro previously campaigned by Bob Fryer and the University of Pittsburgh Road Race Team.
Sold to Tom McArthur in 1971 or 72, who painted it bright metallic (Marina?) blue with a white stripe and continued to race in SCCA BP, then re-purchased by Paul Hecker and Blake Rear in approx. 1973. Paul, Blake and Bob Bienerth raced the car in SCCA, IMSA and Trans Am events at Mid-Ohio, IRP and Lime Rock, Nelson Ledges and Road America with 302, 327, 350, 427 and 454 c.i. engines through 1975.
After 1975 the car was sold to Ed Prutton, also of Cleveland, who raced in partnership with Paul Hecker until the partnership dissolved, at which time Paul became the sole owner. An engine fire damaged the cowl and hood, and paint as shown above applied by Steve Novak during this time period. The letter "B" on the door indicates that it may have gone back to SCCA B Producion at the end of its racing life in the late 1970's.
Paul Hecker passed away of a heart attack in 1996. All of the documentation Paul had collected during his racing career was lost in a house fire that occurred a few years after his death.
Matt Hecker, Paul's son sold the car to Jan ______? a Cleveland area resident who sold it to Joe Gordon of Sandy (Salt Lake City), Utah in 2000 or 2001. Purchased by me, Eric Ritchie of Katy (Houston), Texas in May 2002
BODY: Numerous stone chips on nose, trailing edges of wheel openings and on exhaust pipe behind front wheels, typical of a well-used road race car. Windshield posts were cut down for SCCA racing, then a full windshield and frame was installed for IMSA and Trans Am racing. Many small holes around cowl and doors, probably for tonneau cover. Still has stock headlights. Nose and front corners have been lightly damaged and repaired. Rear clip (body from doors back) has been damaged and repaired. Had a stock-type small block 327 hood. Driver's seat is similar to those in the original Grand Sport Corvette, could be of military aircraft origin. Front and rear fender flares that appear to have been added at the time of the blue paint.
CHASSIS: Seam welded and gusseted, Koni shocks, aftermarket front and rear sway bars. Rear half shafts are the u-bolt type usually found on small blocks and the side exit racing headers are for a small block. Fuel tank is stock type. Has J-56 heavy duty dual pin brakes. Roll bar is stamped 024340, but last digit is only a partial. The first three digits are usually the region. Region 24 is Northeast Ohio (NEOhio). The SCCA says no Corvette was registered with the first five digits of this number. The number is either a mistake, a fake, or from another sanctioning body. The car may have been a 427 originally and many of the spare parts are correct casting numbers and date codes for a High Performance 427/435 horsepower.
IF YOU HAVE ANY INFORMATION ABOUT THIS CAR OR ANY PREVIOUS OWNERS OR DRIVERS, PLEASE CONTACT ME. Eric Ritchie e-mail: eritchie (at) consolidated (dot) net
HOW IT LOOKS NOW 2002-present
<![if !vml]>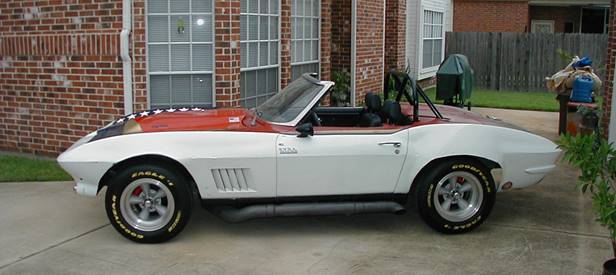 <![endif]>
HOW IT LOOKED IN 1970 AT THE SCCA ROAD ATLANTA RUNOFFS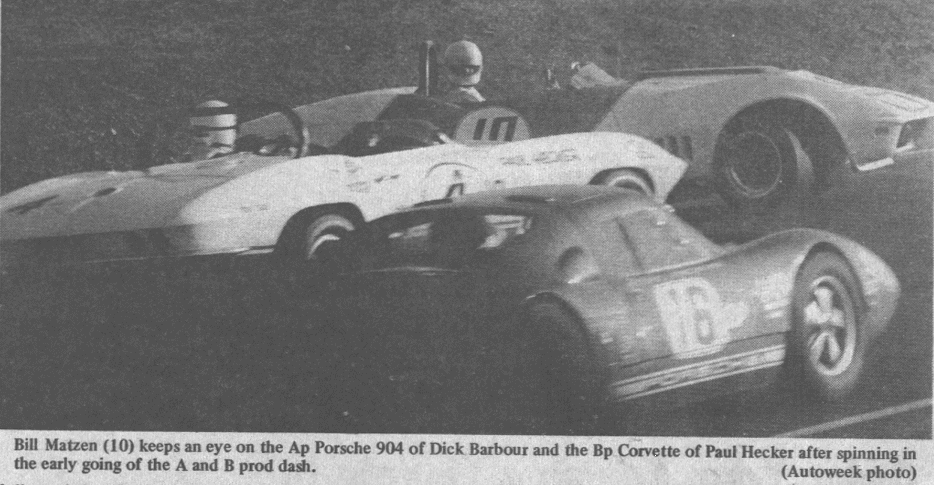 HOW IT LOOKED IN 1974 AT MID-OHIO IMSA CAMEL GT RACE
<![if !vml]>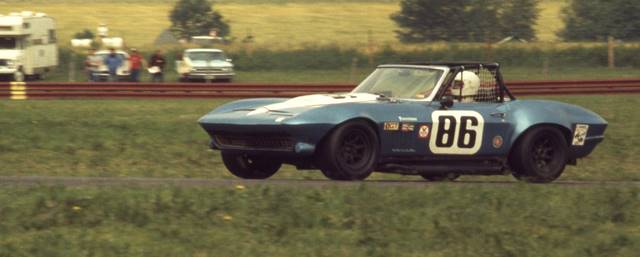 <![endif]>