1966 MUSTANG SHELBY GT350 FASTBACK CLONE/REPLICA/TRIBUTE
STREET LEGAL VINTAGE RACECAR
SOLD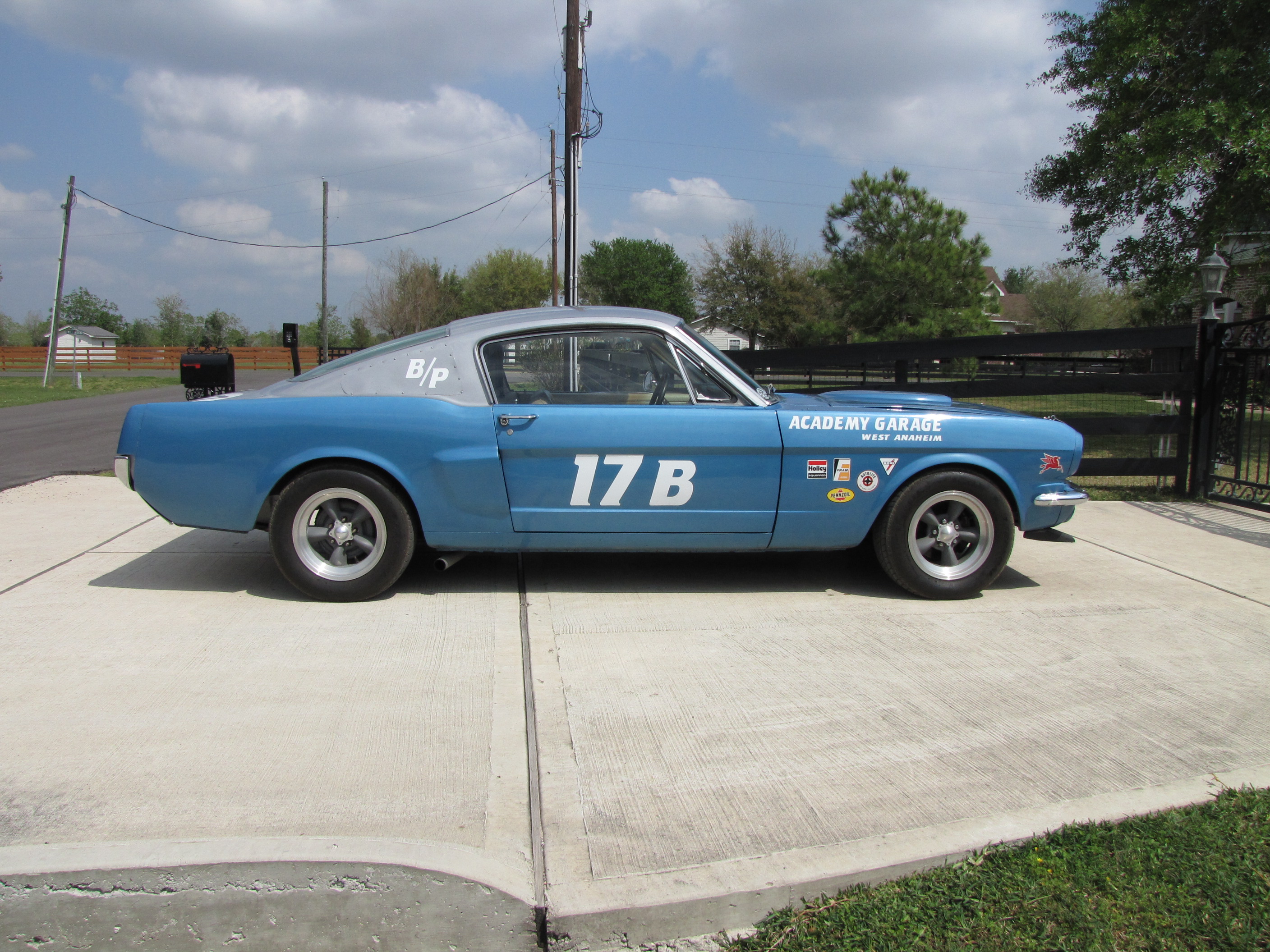 Click on picture above to see more pictures
This 1966 A code fastback was built for SCCA BP (B Production) road racing in Southern California in the early 1970's.
However it never raced a SCCA event, but did compete in other California car club races and events.
The history is undocumented except that I can provide a letter with the highlights of a telephone conversation with the previous owner/builder/driver.
This is a survivor with a very nice patina that indicates that is not a recent build, but a true vintage roadrace car that has never been restored.
The car has not been raced in at least 25 years, but could be back on the track with just a few safety upgrades or driven on the street as is.
The only significant modification that the car has had was an upgrade of the engine from 302 ci to 347 ci.
According to the builder and my observations it has the following features:
347 cubic inch SBF balanced and blueprinted engine with forged crank, rods, and pistons, World Products Roush heads, 10.5:1 compression ratio, dual pattern cam, Edelbrock intake, Holley 750 double pumper carb, roller rockers, Canton oil pan, vintage Walbro electric fuel pump, coated headers and period-correct air cleaner and Cobra valve covers. Fake Shelby GT350 tag with serial number on inner fender. A pair of 351W period-correct heads is included in the asking price.
The rest of the drive train consists of a Borg Warner T-10 four speed, Hurst Competition Plus shifter, aluminum driveshaft and Ford 9 inch rear end with 3.50:1 gears, Tru Lok (True Trak?) differential and 31 spline axles.
The suspension has Shelby modifications including bump steer correctors, and quick steering pitman and idler arms. Other suspension work consists of four piston front calipers, 720 pound front coil springs, upgraded rear leaf springs, larger sway bars, lowered upper control arms, upper ball joint wedges, and sub frame connectors, and the battery moved to trunk to improve weight distribution.
Wheels are vintage American Racing Torque Thrust design with good street tires. New Hoosier vintage racing tires (un-mounted) are included.
The interior has a racing steering wheel, tach and gauges added, and vintage racing harness. The radio and back seat have been removed.
This car is street legal in Texas, but is a serious race car, no A/C, no power steering, power brakes or power anything! This car was built for road racing, so the paint and cosmetic details are typical racecar quality, although this car has been displayed in local car shows, it is not a show car.
A cooling fan and horns have been installed to make the car street driveable.