1966 Ford Bronco U14 Sports Utility Pickup
<![if !vml]>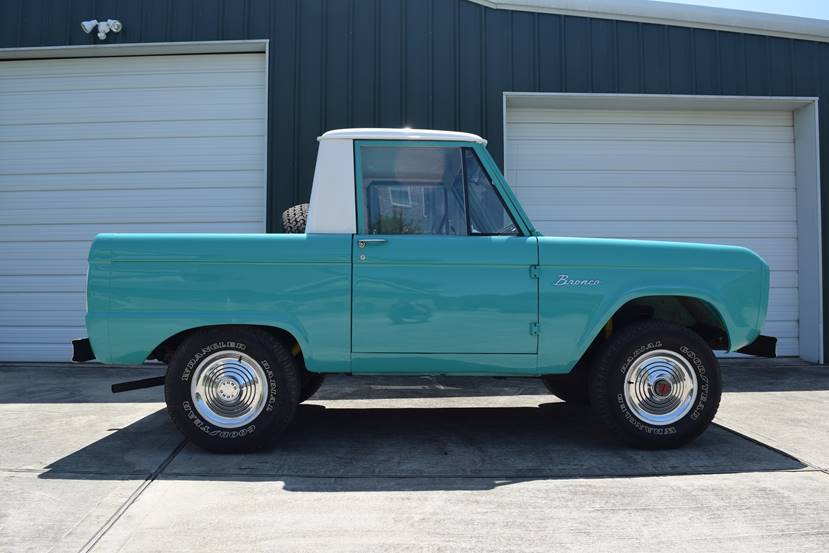 <![endif]>
HISTORY
This Bronco VIN U14FL7369XX was born at the Ford Michigan Truck plant in the first month of production, August of 1965 then purchased for $2750.40 from Charlie Hillard Ford in Fort Worth Texas by "J. W." on October 4th 1965 and either he or his estate sold it to Vaughn Specialty Automobiles and Funeral Services in Alvarado, Texas around 2009. I am the second registered owner and purchased it from Vaughn in 2010. Charlie was an interesting car dealer and pilot. http://www.charliehillard.com/index.html
JW's last name is withheld to protect his privacy but buyer but I had all original registration documents, brochures and manuals and a copy of the original title and his driver's license. JW, who was born in 1922 lived in Fort Worth at least until 2007. It was likely used mostly on a farm or hunting lease near Alvarado,TX.
There are over 100 pictures including documentation at:  https://www.flickr.com/photos/28328827@N06/sets/72157704479603552
When I bought the Bronco the seller's description included, "The miles are ORIGINAL; the truck was sold new in 1965 by dealership to the owner who has had it until the time we took possession. There have been only two owners. It is a TEXAS truck and in OUTSTANDING condition!" They are a dealer so I would say that the OUTSTANDING part is a bit of an exaggeration but I do believe the original miles part based on the condition.
DESCRIPTION
Very early production, has been repainted but is unrestored, believed to be original engine, transmission, transfer case, rear end and solid body with no rust-through. Odometer shows 62,000 miles and condition of truck is consistent with miles. Factory 4.10/4.11 gears with correct square cut chrome rear bumper, 1966 only hub caps, 1966 only transfer case knob, original uncut quarter panels and 170 cubic inch six cylinder engine with "three on the tree" standard shift. Body is absolutely solid, no rust holes or soft spots. Front foot wells and main cargo bed floor have been replaced due to pitting and dents, they were not badly rusted. The dash has no modifications and still has its original paint.
It was repainted around 2009 and the work is average "driver quality". It appears that there were some repairs done on the rocker panels and right rear quarter panel that are good but not perfect. The paint has a few runs and sags but they are not very noticeable because they are in areas like the lower windshield frame and lower rocker panels. The overall appearance is very good, the paint is smooth and shiny with no peeling or major damage. It gets a lot of compliments and attention anywhere you go. Areas that are normally rusted on Early Broncos like the rocker panels, lower fenders and lower tailgate are rust-free. There is some surface rust under the hood, but no holes or pitting. New seat covers were installed at the time of the paint. Always stored indoors under cover since I have owned it. I detailed and painted the engine and found no evidence that any of the drivetrain components have ever been removed or replaced.
Sold in 2020.